Search here for books, music, videos and journal titles:
Welcome to the Global Studies LibGuide! If you have questions, please feel free to contact me!
Get help online from a reference librarian via email or live chat.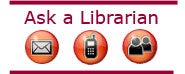 Please feel free to contact me by telephone (480) 965-4579 or email: edding@asu.edu. My office number is Hayden Library, C1T. If you'd like to make an appointment, please feel free to do so.
Search across a number of library catalogs in one interface:
OCLC FirstSearch WorldCat: Books and other materials in libraries worldwide. Materials owned by ASU Libraries are highlighted and linked.
---
World Digital Library: Primary source materials from around the world.
---
Center for Research Libraries (CRL): Global Resources Network: A collaborative initiative of CRL and higher academic research institutions to support international studies through the preservation and exchange of knowledge and source materials. ASU affilates can borrow materials.
Ed Oetting
Contact Info
I will be on sabbatical from 7/7/14 - 1/5/15.The following Librarians at Tempe to contact are: Melissa Guy, History; Dan Stanton, Political Science & Global Studies; Mimmo Bonanni, African/African-American Studies, Ethnic Studies & Military Science.
Send Email