Islamic Studies Resources at ASU Libraries
The Islamic Studies collection includes books (print and electronic), periodicals, films and music CDs. All these materials are accesible via our catalog, however the Arabic language materials cannot be searched in Arabic characters over the catalog. To search in Arabic, please use OCLC FirstSearch WorldCat - ASU materials are highlighted.
Please use the Subject Heading Searches for Arabic-language materials in the ASU catalog. For a list of Useful Subject Headings, see the Book and More tab.
Welcome to the Islamic Studies LibGuide! If you have questions, please feel free to contact me!
Get help online from a reference librarian via email or live chat.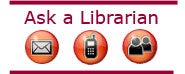 Access to Mideast and Islamic Resources (AMIR): An exellent guide for open-access journal and digitized collection put together librarians Charles Jones and Peter Magierski. Users can sign up for updates.
The World's Muslims: Unity and Diversity: Pew Forum on Religion and Public Life. "The world's 1.6 billion Muslims are united in their belief in God and the Prophet Muhammad and are bound together by such religious practices as fasting during the holy month of Ramadan and almsgiving to assist people in need. But they have widely differing views about many other aspects of their faith, including how important religion is to their lives, who counts as a Muslim and what practices are acceptable in Islam, according to a worldwide survey by the Pew Research Center's Forum on Religion & Public Life."
New! Arabic web encyclopedia to launch in December with 500,000 articles.
Center for Research Libraries (Middle Easten Studies): 20,000 items about the Middle East and Islam Studies. All materials are avialble for borrowing to ASU affiaes:
Print Books, Digitized Books
Magazines
Microfilmed Newspapers (from Iraq, Turkey, and around the world), Library of Congress Arabic Pamphlets
Theses and Dissertations
Print newspapers
Microform Sets: the Creation of Modern Iraq
WorldCat: