Who Should Use This Guide
This LibGuide is intended to support the coursework and research needs of students enrolled in the Herberger Young Scholars Academy on the West campus of Arizona State University and to support the research and instructional needs of faculty who work with them.
The ASU Libraries provide assistance in many ways:
In-person at the Information/Reference desks in each of the libraries
By phone at the Information/Reference desk in each of the libraries
By e-mail (we'll respond within 24 hours)
By online chat
For more information about our Ask a Librarian service see: http://lib.asu.edu/help/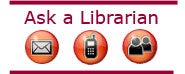 The ASU Libraries also have subject librarians who specialize in the literature and information in specific areas. Use the contact information on the right to contact your librarian for an in-person, email or phone consultation.
Bee Gallegos
Contact Info
My office is located in Fletcher Library 301C on the West campus. For research assistance call me at (602)543-8509 or email me Bee.Gallegos@asu.edu Office hours are generally Monday-Thursday 7am-4pm & Friday 7-11am.
Send Email