Guide to Finding Interesting Public Domain works Online: The Public Domain Review guide.
---
Jewish Studies Source: Covers several hundred full-text titles, including leading Jewish Studies academic journals, monographs, related articles from major periodicals and newspapers.
---
Harvard Library Judaica Division's publications Online: A collection of 100 digitized publications: catalogs of exhibitions, lectures and articles, proceedings of library conferences held by the Judaica Division, catalogs of segments of the Judaica Collection, monographs in the Harvard Judaica Collection Student Research Papers series, and materials distributed in connection with Judaica fundraising.
---
Welcome to the Jewish Studies LibGuide! If you have questions, please feel free to contact me!
Get help online from a reference librarian via email or live chat.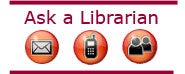 Use the following table to locate information in different tabs at the top of this LibGuide:
| | |
| --- | --- |
| To Find: | Use: |
| Encyclopedias, lexicons, biographies, directories, calendars, study guides and websites | Reference Resources |
| Language dictionaries for Hebrew, Yiddish, Ladino, Aramaic; Hebrew subject Headings | Jewish Languages |
| Books, collections of scholarly E-books, dissertations and theses, and microforms; search Jewish subjects in the catalog, book reviews | Books and More |
| Journal articles, E-journals and digitized journals, book reviews | Journal Articles |
| Searchable databases of primary sources, collections of digitized books | General and E-book Databases |
| Digitized or microfilmed newspaper collections, current newspapers | Newspapers |
| Primary Judaic texts (Torah, Talmud, etc.) and digitized manuscripts | |
| Archives, oral history | Primary Sources |
| Information about Jewish Communities | Jewish Communities |
| Israel Studies | Israel Studies |
| Jews in the Old West | Jews in the Old West |
| Videos, images, and archival collections | Media/ Images |
| Databases of streamed music | Jewish Music |
| Language dictionaries for Hebrew, Yiddish, Ladino, Aramaic; Hebrew subject Headings | Jewish Languages |
| A separate guide for Holocaust Studies | Holocaust Studies |
| A seperate guide for Biblical Studies | Biblical Studies |
| Advanced resources: bibliographic and research tools | For Faculty and Graduate Students |
| What makes the Judaica collections at ASU Libraries unique? | Collection Highlights |