Would you like to make a suggestion for a book purchase? Add a comment here!
Loading...
Hello and Welcome to the Justice & Social Inquiry LibGuide! If you have questions, please feel free to contact me!
Get help online from a reference librarian via email or live chat.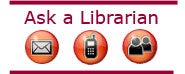 Best Places to Get Started
Looking for Books?
Use the Catalog Search box below or the Catalog link from the main Library page.
Looking for Journals?
Use the Journal Title Lookup link from the main Library Page. Make sure to search both the Electronic Journals and the Print Journals.
Looking for Articles?
Go to the Journal Articles tab in this LibGuide or go to the Research Databases link from the main Library page.

Search here for books, music, videos and journal titles: