Welcome to the Philosophy LibGuide! Feel free to contact me with any questions.
Get help online from a reference librarian via email or live chat.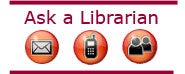 At ASU
---
Societies, Philosophy Websites
---
This guide includes resources for studying the multidisciplinary subject of Religion and Conflict at ASU Libraries and beyond.
Books and More: eBook Collections, videos and music, dissertations and theses, microforms, government documents, and special collection items. Learn to utilize Library of Congress (LC) subject headings. Expand your search via other library catalogs.

Reference Resources: Search for encyclopedias and dictionaries, some have extensive, updated information, suggested readings, and bibliographies.
Research Databases: Search for journal articles, essays, book reviews and e-books in relevant databases.
Primary Sources: Online access to formative texts for the study of philosophy.
For Faculty and Graduate Students: Advanced tools for publishing and analyzing scholarly communication.
Your Librarian at the West campus