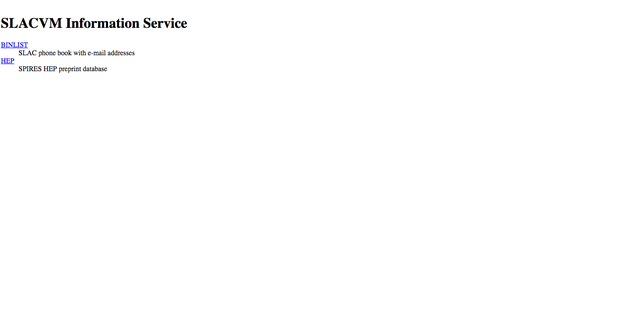 SPIRES started as a bibliographic database SPIRES-HEP in 1974 hosted at SLAC in collaboration with DESY and became remotely accessible in the mid 80's. Several databases - CONF, EXP, INST, HEPNames and JOBS - followed and Fermilab joined the team.
In December 1991 SPIRES became the first web server outside Europe (pictured above), from the start closely related to the arXiv repository.
For High Energy Physics SPIRES-HEP was the reference for publications, covering not only journal articles and preprints but also conference proceedings, technical reports, theses and other 'gray' literature, the value of the information enhanced by thorough proof-reading, keywords and links to the sister SPIRES databases and other information services.
The time-honored SPIRES database suite has in November 2011 been replaced by INSPIRE, which combines the most successful aspects of SPIRES - like comprehensive content and high-quality metadata - with the modern technology of Invenio, the CERN open-source digital-library software. (CERN)